Bell Let's Talk is an annual event and campaign that began in September, 2010, that Bell started to try to raise awareness about mental illness, reduce stigma and encourage people to talk about mental illness. For every use of their hashtag on specific social media platforms, making phone calls and texting, or other interactions, they will donate 5¢  to fund mental illness research and services in the country of Canada. Bell is the largest company to step in, speak out about mental illness and create a movement for the community.
In 2015, they increased their campaign to 2020, where they commit to donating up to 10 million dollars in regards to mental illness. On January 27, 2016, Bell donated over 6 million dollars based on the near 126 million long distance and mobile phone calls, texts, tweets and Facebook shares. Currently, Bell's total donations stand at 79,919,178.55$ as of 2016.
Hopefully, this year, we can exponentially increase the funding, have open discussions about mental illness, and end the stigma.
---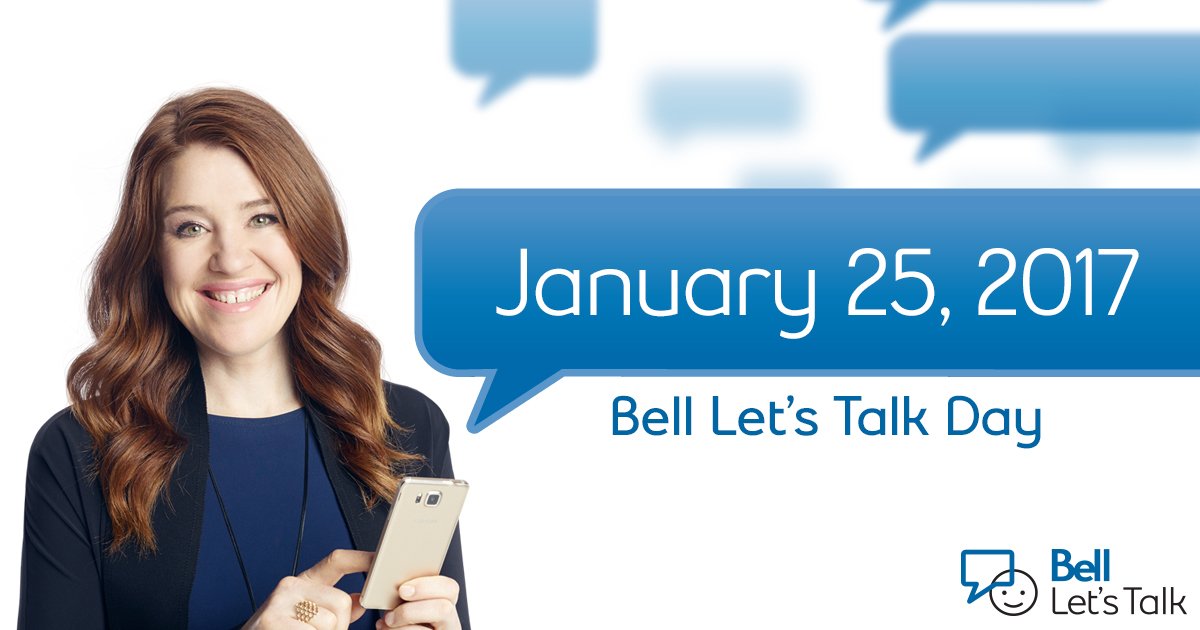 How can you help this year?
All day, Bell will donate 5¢ to mental health initiatives for every:
• Text message sent by Bell and Bell Aliant customers
• Mobile and long distance call made by Bell and Bell Aliant customers
• Tweet and Instagram post using #BellLetsTalk
• View of the official Bell Let's Talk Day video on Facebook
• Snap using the official Bell Let's Talk Snapchat filter

(Join the event on Facebook: Bell Let's Talk Day Event)
---
Why is this such a phenomenal movement?
Mental illness has always had a stigma cloud that followed it, where people aren't entirely understanding or compassionate towards others because of their illnesses. It is often a topic for jokes and put downs, where the joke is at someone's emotional expense. Though the stigma has reduced over the years, thanks to Bell Let's Talk and other mental health movements, it isn't gone. People with mental illness are still being degraded, disrespected, turned away by doctors, deemed unworthy of medical attention and completely ignored by the public.
When the conversation is closed, people bottle up their emotions and feel that their feelings are not valid. The further this happens, the more individuals isolate themselves and feel embarrassed to open up, the more suicides continue to happen. No one truly wants to die; they are hoping their pain will stop.
The majority of society acts as if mental illness isn't a part of their everyday life, when 1 in 5 Canadians struggles with some form of mental illness. These people are in your life, in your schools, at your work, on the streets, in hospitals, in your home, in your family, in your social groups… They are your parents, your grandparents, your siblings, your aunts, your uncles, your friends, your enemies, your acquaintances, strangers… They are everywhere, living normal lives, with not so normal symptoms. Mental illness is THAT common.
A large majority assumes that the mentally ill can only be categorized by schizophrenics, psychotics, and those with bipolar. Those conditions are very hard to live with, accompanied by delusions, voices and uncontrollable emotional levels (and should not be stigmatized), but are not the only ones. Mental illness is much more. It's depression, anxiety, personality disorders, variations of eating disorders, variations of body-focused repetitive behaviours, and many other, rather uncommon categorizations. It is possible that you may have a mental illness without being aware of it. Mental illness does not make you "crazy" or "psycho".
It's time that we, as a society, open up the conversation for mental health, learn about the different conditions and how they affect people, and urge to reduce the stigma in our everyday lives.